We will produce high-quality oil blotting paper according to your needs.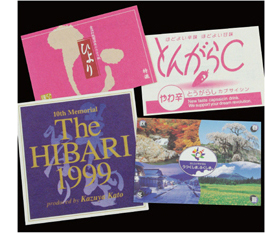 For companies that are considering of selling oil blotting paper as a new business or companies in the cosmetics industry that are looking for high-quality oil blotting paper, we accept a small order. Please feel free to contact us to discuss your needs.
We will help turn your idea into reality!
OEM Examples
Example 1 / Tea maker in Shizuoka

Selling oil blotting paper with aloe extract to balance the pH of skin to promote the release of our tea soap. A renowned tea maker in Shizuoka, which is famous for its tea production, made a request for "making oil-blotting paper to promote the new tea soap". The green color of the Hiyori oil blotting paper with aloe extract matched the image of tea, and also the paper did not contain any chemicals. For these reasons, our product was selected for their promotional novelty items.

Example 2 / Cosmetics company

Selling oil blotting paper as high-end cosmetics series. According to the luxury cosmetics company, they immediately decided to use Hiyori's products because of its high quality after receiving samples from a number of oil blotting paper manufacturing companies and examining them all. Customers have long loved the high-quality oil-blotting paper.

Case 3 / Amusement Park

Compact size, 3 types of original covers. Some amusement park has decided to sell oil blotting paper, because 80% of the visitors are women. In order to keep the price low, we modified the size. Since then, we have maintained strong sales due to the small size.
Order flow
Please contact us by phone or send us an inquiry form.
Step1

Meeting

We make proposals and decide specifications based on customer requests.

Step2

Quotation

We will provide an accurate estimate based on the specifications decided in the meeting.

Step3

Schedule confirmation

We will decide the schedule for the entire process from data submission to delivery.

Step4

Payment

Production will begin after payment is confirmed.

Step5

Production

Step6

Delivery

We use a courier service to deliver.