We accept orders including promotional novelty items, competition prizes and others.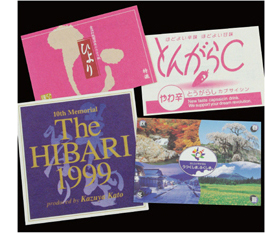 We provide premium materials for various types of events and promotions. The package design can be arranged to meet the customer's request.
We try our best to meet all your requests in the production process.
Please feel free to contact us.
Novelty Examples
Example/1 Otsuka Foods Co., Ltd.

Manufactures the scented oil blotting paper as novelty items for their health drink.

A quick wipe with oil-blotting paper helps clean and smooth the skin. Otsuka Foods Co., Ltd. launched a health drink containing capsaicin, which stimulates fat burning. Hiyori oil blotting paper was used as their novelty item.

Example/2 Fukushima Prefecture Tourism Division / Fukushima Prefecture Tourism Federation

Fukushima Museum "Utsukushima Mirai Expo" commemorative item

Beautiful smooth skin with hot springs and oil blotting paper.
Fukushima Prefecture, which is known by the catch phrase "Utukushima, Fukushima", is renowned for their hot springs. High quality Hiyori oil blotting paper was used as their novelty item.

Example/3 Securities firm

Print the company's name of the securities firm on Hiyori's ready-made products

Securities firm used it as a commemorative item for their 20th anniversary.
Most of the customers are men, however they were happy to receive it because they could give it to their wife.

Example/4 Bride and groom to be

Oil blotting paper with messages on from a newly wedded couple

Hiyori's oil blotting paper was purchased as a gift for wedding guests by a newly wedded couple who is our regular customer.

Example/5 Brewery

Original oil blotting paper with loquat leaf extract

As a campaign for Biwa sake, we chose a blotting paper containing biwa leaf extract as our novelty item. We developed the new type of paper which contains Biwa leaf extract. Due to its expected effect on the skin and its uniqueness of the product., it has attracted a great deal of attention.
Order flow
Please contact us by phone or send us an inquiry form.
Step1

Meeting

We make proposals and decide specifications based on customer requests.

Step2

Quotation

We will provide an accurate estimate based on the specifications decided in the meeting.

Step3

Schedule confirmation

We will decide the schedule for the entire process from data submission to delivery.

Step4

Payment

Production will begin after payment is confirmed.

Step5

Production

Step6

Delivery

We use a courier service to deliver.